var _gaq = _gaq || []; _gaq.push(['_setAccount', 'UA-11329516-3']); _gaq.push(['_trackPageview']);
(function() { var ga = document.createElement('script'); ga.type = 'text/javascript'; ga.async = true; ga.src = ('https:' == document.location.protocol ? 'https://ssl' : 'http://www') + '.google-analytics.com/ga.js'; var s = document.getElementsByTagName('script')[0]; s.parentNode.insertBefore(ga, s); })();
Our instructors are available for private lessons. Please contact us here.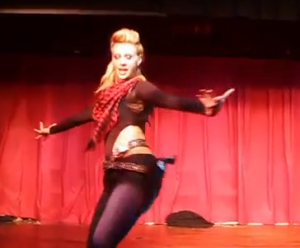 SHEENA LARSEN
Sheena began dancing at the tender ago of seven at the local dance studio in her small Utah hometown. However, it wasn't until her senior year of high school that she discovered her passion for Latin dancing while out at a club for the first time. The club just happened to be holding a Salsa dance competition that very night, and as fate would have it, a local Salvadoran man asked her to compete with him. Without even knowing the steps, she quickly agreed and they ended up winning the competition. This was the beginning of a life-long addiction to Latin dancing. Sheena was completely hooked.
This newfound hobby led her to audition for the Ballroom Dance Company while in her first year of college. Without any prior Ballroom dance experience, she had a natural talent and was invited to become a member of the Ballroom Dance Company where she began training, performing and competing. Over the next several years, Sheena had the opportunity to travel throughout the Western United States and Canada, performing and competing in the International Latin division and ranking first place in numerous competitions, including BYU National Amateur Ballroom Dance Championships. She went on co-direct the university Ballroom Dance Company and began teaching locally at colleges, gyms, sports clubs and schools, in which she gained valuable teaching experience.
After six years of studying ballroom dancing, Sheena was re-introduced to Salsa through a good friend, in a more structured format. Not long after, she began performing and teaching with the Utah-based professional Salsa dance company "Drugagya Forma." Salsa was easy at first because of her background experience in ballroom dancing, however, the deeper she ventured, the more she realized how distinct Salsa actually was from ballroom. She was attracted to the natural Afro-Latin body movement elements of the dance. Her desire to learn more lead her to NYC three years ago to study under the professional instruction of some of the top pioneers of Salsa.
Currently, she is the co-founder and an instructor at the NYC-based Salsa dance company "Step Into Salsa." Her school has been operating since the beginning of 2010 and specializes in the popular On2 NY Style of Salsa. New students and beginners are welcome at all times. Connect with us on facebook.
CESAR CARRASCO
Cesar is from Peru, and now resides in New Jersey. He grew up listening to Latin music, but it wasn't until living and working in Japan that he discovered his passion and talent for Salsa dancing. In 2003, Cesar began training in the On1 style of Salsa with Edwin and Fumiko, and shortly thereafter became a member of the professional Japan-based Salsa company "Salsa Locos." From 2003-2005, he performed and traveled with the company at many events throughout Japan.
In 2006, after returning to New York City, Cesar began studying the On2 New York Style Salsa under the professional instruction of Marcus Nieves and Eddie Torres – The Mambo King. Since then, the NY Style of Salsa continues to be his passion. He has taught at various studios and events throughout New York and New Jersey, including the Girl Scout's Organization. He continues to perform and teach and is currently a member of the professional salsa company "Duro Guaguanco." Connect with us on facebook.

ATSUKO MURAKAMI
Atsuko Murakami studied piano for 15 years. Rhythm and musicality would eventually crossover into her dancing.It was during her visits to Canada and the U.S. in 2003 (to study English language), that she discovered Latin dancing.Upon returning to Japan, she began studying salsa classes "On1" and quickly joined a performance team in Osaka.
It was in 2008, that she moved on to studying the New York Style "On2" taking classes with visiting guest instructor Angel Ortiz (New York City). She then became director of her own dance team based in Kobe, Japan. Since then, Atsuko has rapidly grown in her dance and teaching skills. Now she successfully travels and teaches On1, On2, Cha-cha-cha, Bachata and basic Hustle, while performing in various venues throughout Japan and the U.S.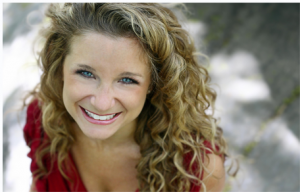 SHARI KATZ
Shari, originally from Augusta, Maine, has been dancing professionally for 10 years. After graduating from Colby College with a BA in Psychology, Shari moved to New York to pursue a career in dance. Since then, she has travelled the world through dance--from Dance Captaining on a World Cruise Ship to performing regionally in musical theatre productions. While she was just recently introduced to Zumba a few years ago, she instantly fell in love. In her class, Shari incorporates all of the Zumba basics with some added bubbly flare. Come shake it with Shari on Mondays and Thursdays!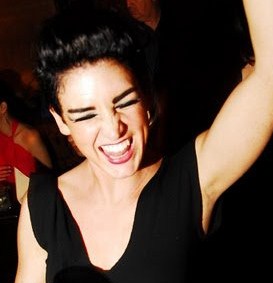 COOKIE
I love to dance! My goal is to make every Zumba class I teach Fun, Easy to Follow, and a Hard Workout! I have a background in Latin Dance. I decided to get into teaching Zumba when my salsa students started telling me they were losing weight from dancing salsa! I became certified in Zumba in 2011 and have been teaching every since! I love learning new dances from all over the world and passing them on to my students.